The lake is located where the provinces of Saskatchewan, Manitoba, the Northwest Territories and the recently formed eastern arctic territory of Nunavut meet, less than a mile from our lodge, a government cairn and old surveyor's tower mark the exact spot.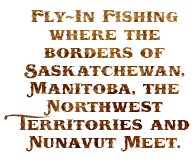 Most of our guests take the time to go over to the border marker. "Where else can you walk through two Provinces and two Territories in a ten foot circle?"

unspoiled earth

To say the least, Hasbala Lake is very remote and located in a beautiful, unspoiled sub-arctic wilderness. Of course, our guests and for that matter, ourselves, get to enjoy the exclusive use of this wonderful area.
Images:
1
2
3
4
5
6
7
8
9
10
11
12

the islands

Hasbala Lake has many islands with several holes of well over 100 feet. The inlet river flows in on the south end and the outlet is three hundred yards from the lodge, on the north end. "To me, the south end of Hasbala Lake is extra special, it's inlet river forms a genuine delta and the surrounding eskers and hills resemble an alpine area featuring mountain "bowls" with a small clear lake at the bottom. It is a very unique and beautiful place, my words can not do it justice. I have traveled a lot in the north, so far nothing compares to the south end of Hasbala."