THE FISHING GUIDES AT HASBALA LAKE LODGE

Guided Fishing in Saskatchewan, Canada's Far North. As Owners of Hasbala Lake Lodge we will have a lot to do with making your trip to our lodge a good one.
Even though we hate admitting it, your fishing guide will be just as important to you our guest as us (maybe even a little more important).
You will be spending more time with the guide and it will be his job to find you fish and to ensure your safety out on the water.
Our guides have lived in the far north all of their lives and worked and played on water and in the bush since they were young boys so handling a boat and water ... all kinds of water is just "second nature" to them. It's their element - it's where they should be and this shines thru in the way they do their job!
Our guides know Hasbala Lake just as well as the back of their own hand ... where the fish are and they will also make sure you are safely back at the lodge after a great day's fishing!
They work hard, they are a lot of fun and they are friendly simply because they love people and what they do for a living ... you will have a new friend when it is time to leave for home!

our boats and motors

Hasbala Lake Lodge boats are kept clean and in top operating condition at all times. Our guides each have their "own" boat and motor for the complete season ..., they are very proud of the condition they keep them in.
You will be fishing out of 16 ft aluminum boats with 15 HP motors. All of our boats are equipped with padded/backed seats ... fish finders, life jackets and fish cradle with two guests per boat.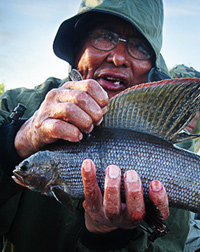 PIERRE BESSKEYSTARE

Pierre is Dene and has guided at Hasbala for 10 years and comes from Wollaston Post and helped build Hasbala Lake Lodge for which we owe our "eternal gratitude".
In the off-season he's a trapper "extrodinaire" and was one of the last to use a dog team from his village. Pierre is the "senior" of the guides and a real gentleman.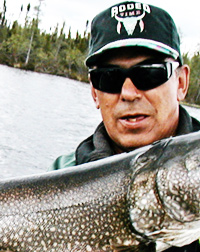 rene durocher

Rene is Cree and has guided for Mo Miller for 18 years and one season for us. He comes from Pinehouse Lake and happens to have a wonderful sense of humour. He also has a wonderful disposition!!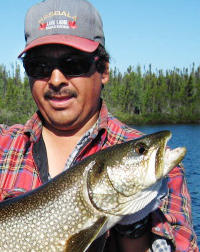 RONNIE MISPONAS

Ronnie is Cree and has guided with me for 7 years and comes from Pinehouse Lake, he has a dry sense of humour and has an uncanny knack for finding the big fish. He has finally found himself a girl friend and we like to take full advantage of ribbing him about it.